Landscape Design and Installation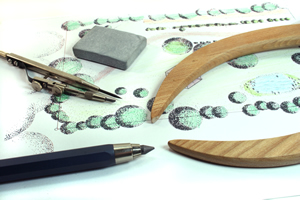 Having a garden or yard adds a very attractive look to your property. It's always a good thing to have some greenery around you. However, these spaces also have to be designed and installed well. Landscaping is a very scientific and artistic process and just planting a few trees and shrubs and positioning some water features doesn't qualify as landscaping. If you really want these outdoor spaces on your property to look unique and attractive, its best to hire the services of a company that provides Landscape Design and Installation services.
We at Clark Landscape Inc are a company that excels in providing all-round landscaping services. Over the years, we have served clients in and around Bloomington, Columbus, Franklin, Greencastle, Seymour and Beech Grove. While we are highly focused on providing the best services, we always maintain very reasonable pricing.
Landscape Design Process
When it comes to designing your landscape we pride ourselves on providing professional design services that allow you to get a visual on the end product. We use only the latest landscape design software that will enable you to see a 3d image of the design that we come with for your property. It all starts with a one-one meeting between you and our designer where we get pen to paper and get down all of your ideas and visions for your landscape setting. Once we have that and have assessed your site we can then use our software tools to develop a 3d image of your beautiful new landscape.
Landscape Design Benefits
We follow a very methodical approach to our job and focus on providing our customers value for money. There are a number of benefits to getting your landscape designed from us-
Functional - When we provide designs, we make sure that you are able to use these in a more functional manner. It's why we incorporate features such as outdoor kitchens, arbors, pergolas, decks and patios etc as required.

Aesthetics- Functional spaces should be aesthetically appealing too. We have skilled and experienced landscape design professionals who work with you to understand what your ideas are and create design concepts that are in line with your liking.

Energy saving- Placing trees and large plants strategically near large windows of your house helps provide natural shade, which in turn helps maintain more comfortable indoor temperatures and reduces your energy bills.
Landscape Planning- Factors We Take into Consideration
Our company has a large number of repeat clientele coming in from areas such as Martinsville, Mooresville, Bedford, Greenwood and Plainfield etc. When we handle these jobs, there are a number of factors we keep in view such as:
The layout

Presence of grading and slopes

Your specific requirements and preferences

Design elements of the house structure

Design theme of landscape plans

Existing plantings and trees

Types of plants and shrubs to be installed

Fireplaces and outdoor kitchen installations

Any other outdoor features

Hardscaping elements such as garden steps, retaining walls, boundary walls etc

Paver stone installation

Design and install of walkways, pathways & driveways

Landscape lighting

Water feature design and install

Climatic and soil conditions

Positioning and installation of irrigation system

Drainage system installation

Different types of materials to be used

Landscape design cost

Other

For any addition information, or an obligation-free quote for landscape design and installation, call Clark Landscape Inc at 812-824-8578. Speak with our experts, tell us what your specific requirements are, and we will provide the best, customized solutions. The work will be carried out in a meticulous and efficient manner and completed within the stipulated timeframe.
We Provide Services to the Following Cities and Towns in IN:
Bloomington, IN
Kirksville, IN
Handy, IN
Harrodsburg, IN
Kirby, IN
Hendricksville, IN
Bedford, IN
Martinsville, IN
Unionville, IN