Retaining Walls and Pavers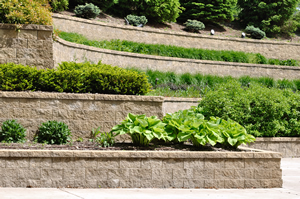 Landscaping installations like retaining walls and pavers require considerable amount of skills. They are structures that are meant to endure and stand against the harsh elements of the outdoors. Needless to say, if they're not constructed properly, they won't last long and your investment will go down the drain. That's why it's important to hire the right contractor for building a retaining wall and installing pavers.
We at Clark Landscape, Inc, have ample experience in building these structures. We have installed several of them in residences at Bloomington, Martinsville, Mooresville, Bedford, Greenwood, and Plainfield. Our clients have been satisfied with the overall results of the job.
Install Solid Retaining Walls
Retaining walls are structures that hold your landscape in place and maintain its shape. They are important when your property has sloping areas. In such cases, the threat of erosion and water pooling and flooding is very real. Retaining walls will keep the soil in place and facilitate drainage on your property. There are several kinds of retaining walls and you can choose one depending on your requirements and budget. Here's a list of the common materials used in this structure:

CMUs –

Concrete masonry units are the most common features used in retaining wall construction. They're large blocks of concrete that are stacked alongside each other to build the wall. They're usually covered with veneers to make them look great.



Stacked Block Walls – one of the best things about using stacked block wall systems like that of Belgard and Versa-Lock is that they are so easy to install. These retaining wall products are manufactured to be lightweight and fit together in an interlocking system. This makes for a very strong and sturdy wall. These stacked walls are made using concrete that can imitate the look of natural stone walls at a more cost-effective price point!


Stone Veneers –

Veneers are usually thin pieces of stone that are applied on the base retaining wall to give an appearance of a stone wall.



Natural Stone Walls – the use of natural stones when building a wall is going to provide you with an extremely durable wall. Natural stones are not man made and will stand up well to all the elements of the outdoors. These walls will always look amazing and stand the test of time.
Installing Pavers
Pavers are some of the most important installations in your backyard. They allow you to navigate the place easily and define the design and structure of your landscape. You need to install everything from driveway pavers to patio pavers to have a truly complete backyard. We give pavers the attention they deserve. We will help you choose a paver material that would fit your budget and requirements. Here are the materials that you can use:

Concrete Pavers –

These are the most common materials for residential pavings today. They're available in a variety of sizes and colors, which makes them appealing.



Brick Pavers –

Brick is a timeless material and is very easy to maintain. It's also very affordable and is used on residential and commercial properties alike.



Interlocking Pavers –

Interlocking pavers are also made of concrete, but they can be laid on a dry bed of sand.
If you have any questions regarding our retaining walls and pavers or the other services we provide, don't hesitate to contact us at Clark Landscape, Inc. All you need to do is give us a call at 812 824 8578. We will help you in any way we can.
We Provide Services to the Following Cities and Towns in IN:
Bloomington, IN
Kirksville, IN
Handy, IN
Harrodsburg, IN
Kirby, IN
Hendricksville, IN
Bedford, IN
Martinsville, IN
Unionville, IN