Landscape Lighting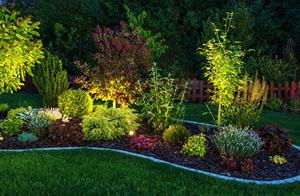 Clark Landscape Inc is one of the front-running companies in the landscaping space. With years of experience behind us, we know what it takes to create stunning gardens and yards; and we have handled a significant number of projects for commercial and residential customers across Bloomington, Columbus, Franklin, Greencastle, Seymour and Beech Grove.
While hardscaping and softscaping are a very essential aspect of any landscape, what probably add to the allure of the outdoor spaces on your property are the outdoor lighting elements. While it's easy to enjoy the beauty of your garden or yard during the daytime, it's very difficult to use these spaces and get the pleasure of using them after dark. Adding the right kind of lighting solves both these problems.
Benefits of Landscape Lighting
We are a company that is highly focused on quality and this is something our customers in across Bloomington, Martinsville, Mooresville, Bedford, Greenwood and Plainfield will vouch for. We have installed garden lights on their properties and helped make these spaces more functional and attractive. There are a number of benefits to adding lights to the landscape, such as:

Like we mentioned earlier, when you have well-lit places, you are able to use them in a more functional manner even after dark. It encourages you to use these outdoor areas that you have designed and installed with such care. You can allow your children to play safely in the garden while you supervise them from your outdoor kitchen, deck or patio. It's a great way to accentuate various attractive plants and trees in your landscape. It adds to the curb appeal and value of your property. Having the right kind of exterior lighting adds to the security aspect of your home. Vandals, burglars and trespassers are less likely to enter grounds that are well-lit. This is a definite deterrent for them.

We provide outdoor lighting plans that are in line with your specific budget. Our experts understand your needs and provide their own inputs which help you make a more well-informed decision.
Types of Outdoor Lighting
We also understand that all these lights are going to add to your energy bills and so we install a number of solar lights and exterior LED bulbs and fittings. The latter provide 80% energy efficiency and help keep a handle on energy bills. We add different types of lighting installations, such as:

Pathway & driveway lamps Outdoor kitchen lighting Garden lamp posts Lighting for steps Lights for columns, beams & decorative pillars Lights that focus on various water features in your garden Paver lights Lights for retaining walls Exterior building lights Floodlights

On our team are highly skilled and knowledgeable lighting experts. They will survey the available space and the different plantings and elements on it and then provide the perfect solutions. We assure you that the end result will be stunning and impressive. For any additional information, or an obligation-free quote for landscape lighting, call Clark Landscape Inc at 812-824-8578.
We Provide Services to the Following Cities and Towns in IN:
Bloomington, IN
Kirksville, IN
Handy, IN
Harrodsburg, IN
Kirby, IN
Hendricksville, IN
Bedford, IN
Martinsville, IN
Unionville, IN