Excavation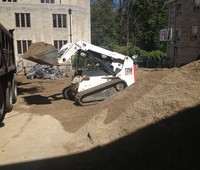 When you want to do some serious landscaping installations and repairs, you need to dig. Do you want to install a patio? All the grass and gravel needs to go and the terrain needs to be even. Do you want to repair your sewer or the sprinkler system? You need to dig into the lawn to access the installations underneath. If you want to grade your lawn or add new turf, you need to do yard excavation. For this, you need a professional.
While serious DIY experts might attempt to do these themselves, they need to have the right equipment and knowledge. There's also a chance that you might damage the installations underneath the ground. It's just a better idea to hire a professional. At Clark Landscape, Inc, we have completed several lawn excavation projects in Bloomington, Martinsville, Mooresville, Bedford, Greenwood, and Plainfield without any damage to installations under the ground.
Our serious DIY clients have often asked us to conduct excavations at Columbus, Franklin, Greencastle, Seymour, and Beech Grove as well.
Why Do You Need a Professional for Lawn Excavation and Digging?
Excavation and digging is complex and backbreaking work. It is also risky when it's not handled properly. For example, if you attempt to grade your lawn yourself, you might just dig too deep and damage the essential drainage system underneath the lawn. In fact, there's always a chance that you might damage a portion of the main lines under your backyard. If the gas, power, or water lines are damaged, you're looking at thousands of dollars in repair. With excavation contractors, you won't have to worry about these problems.
We offer professional excavation services for the following projects:
Driveways

Retaining walls

Patios

Water lines/sewer lines

Footers

Grading/leveling

And much more….
We carry out our services by adhering to the following principles:
We will use the latest technology to understand just what lies underneath the ground. We don't begin digging unless we know we wouldn't damage anything.
We will use the precise excavation equipment and machines to excavate only as much as you need. That would keep the costs low and still get the job done.
As we keep the excavation contained and confined, you won't have to spend time and money repairing the surface of the land. For example, if we dig up a portion of your lawn to access a sewer underneath for repairs, we will make sure that the size of the land disturbed is small. That would ensure you won't have to spend too much on land grading or adding a new layer of topsoil and turf.
As we use the latest equipment, we will get the job done as quickly and efficiently as possible. You won't have to deal with the unsightly dug up lawn for a long time. Your yard would be as good as new within a matter of days.

That's why it's a good idea to call the professionals instead of handling excavation yourself. If you have any questions regarding our land excavation and digging services or the other services we provide, don't hesitate to contact us at Clark Landscape, Inc. All you need to do is give us a call at 812 824 8578. We will help you in any way we can.
We Provide Services to the Following Cities and Towns in IN:
Bloomington, IN
Kirksville, IN
Handy, IN
Harrodsburg, IN
Kirby, IN
Hendricksville, IN
Bedford, IN
Martinsville, IN
Unionville, IN