Drainage Solutions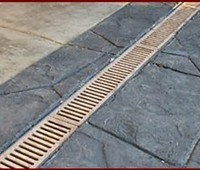 Drainage is one of the most important aspects of your landscape. Without proper draining, you'll always have to deal with water damage, flooding and pooling, and ugly, muddy patches of water on your lawn. A yard without proper drainage won't be able to hold plant life and turf well either. Without proper lawn drainage, you won't be able to achieve that beautiful landscape that you always wanted for your home.
At Clark Landscape, Inc, we always recommend our clients to ensure that they have a proper drainage system installed. We have helped our clients in Bloomington, Martinsville, Mooresville, Bedford, Greenwood, and Plainfield uncover several problems with their drains; this helped them avoid big problems and save a considerable amount of money.
Problems that Require Draining Solutions
There are some symptoms that would show you that you need prompt drainage solutions before things get worse. If you spot these signs, the first thing you need to do is call a professional. Here's a small list of those problems:
Downspouts – Downspouts collect water that falls on the roof and drains it away from your home. They're an essential part of your drainage system. However, the water coming through the downspout needs to be directed somewhere. If there's no proper drainage on the ground that directs the water away from your home and your landscape, you'll have problems like dying plants and soggy, muddy lawns.
Moisture in the Basement – Moisture in the basement is always a symptom of improper drainage systems. It can be caused due to bad drainage from the roof or water from the landscape flowing towards the foundation. One of the main reasons behind this is this improper grading of the land surrounding the house. The land should be graded so that the water falling on it flows away from the house, your neighbor's house, and the landscape beds. If you have a big slope, it might be a good idea to install underground drains.

Neighbors Grading Mistakes – There are times that your neighbors might grade their land and cause problems to you. It they don't hire the right person and plan well, the water from their landscape can flow towards your home, which can lead to problems. If you start noticing problems, you might have to install underground drainage solutions.
Drainage Solutions Available
As we mentioned above, one of the best solutions is to grade the land to direct water away from your home. Aside from that, you can:
Install landscaping plants like dogwoods, red-wigs, willows, etc, that can form a bog area in your landscape. Install a French drain under the surface. If you want an eco-friendly option, you can choose a dry well system for yard drainage. This system will replenish the ground water.
If you have any questions regarding our drainage solutions or the other services we provide, don't hesitate to contact us at Clark Landscape, Inc. All you need to do is give us a call at 812 824 8578. We will help you in every way we can.
We Provide Services to the Following Cities and Towns in IN:
Bloomington, IN
Kirksville, IN
Handy, IN
Harrodsburg, IN
Kirby, IN
Hendricksville, IN
Bedford, IN
Martinsville, IN
Unionville, IN