Landscaping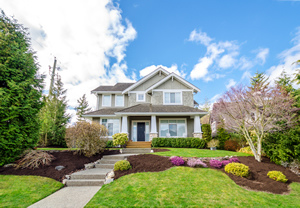 Everyone wants their home to look beautiful, both on the outside and the inside. The beauty of the indoor spaces is for your own personal satisfaction and appreciation. While you might invite guests who will also appreciate the effort you have put into designing your home, it's usually not very visible from the outside. The external beauty of your home is usually visible to anyone who passes by it. One of the most important aspects of the external beauty of your home is landscape design.
At Clark Landscape, Inc, we have created several beautiful landscapes for our clients in Bloomington, Martinsville, Mooresville, Bedford, Greenwood, and Plainfield. Our landscaping experts have helped our clients achieve their dream lawn or backyard on time and in budget.
Out Expert Landscaping Solutions
A landscape can turn out to be great, forgettable, or disastrous, depending on the landscape designer you hire and the plan you create with them. Creating a new landscape requires considerable investment of time, effort, and money. Naturally, you want to make sure that all that investment in rewarded in the end. When you hire us, we will make sure that you're satisfied with the results and will love your backyard. This is how we do it:
Initial Meeting – When you call us, our goal is to understand just what you want from your landscape. We want to understand your vision and requirements. We will arrange an initial meeting where our designer will survey your land, understand your requirements and concerns, and take careful note of everything. That would help them plan things well.
Budget – Budget is one of the primary concerns when it comes to landscaping projects. It's very important to fix a firm limit at the beginning of the project. After our expert has finished surveying the land, he will give you an approximate quote. If that quote is within your budget, great! If not, our expert will help you understand what you need to include and exclude from your landscaping project.
Planning and Design – Once the budget is finalized and the agreement is signed, we will start working on the design. We will consider everything we learned in our meetings with you and the size and structure of your land. Our designers are meticulous and quick and will give you a sketch in a matter of days.
Working on the Project – Once the landscaping design is decided and finalized, our skilled masons and workers will take over. They handle the job professionally, with considerable skill. They will carry out the job as unobtrusively as possible. They will also work hard to keep things on schedule.
As you can see, you'll get an excellent landscape when you hire us. If you have any questions regarding our landscaping solutions or the other services we provide, don't hesitate to contact us at Clark Landscape, Inc. All you need to do is give us a call at 812 824 8578. We will help you in any way we can.
We Provide Services to the Following Cities and Towns in IN:
Bloomington, IN
Kirksville, IN
Handy, IN
Harrodsburg, IN
Kirby, IN
Hendricksville, IN
Bedford, IN
Martinsville, IN
Unionville, IN