Walkways and Patios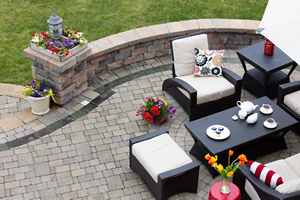 Your landscape is a very important part of your home. Most people spend a considerable amount of money and effort to make sure that their landscape looks great. While your lawns, gardens, and pools are important additions to your backyard, there are some installations that dominate the space, whether you realize it or not.
These installations are walkways and patios. It's important to plan well and install them properly. They need to stand the test of time and endure the weather conditions of the outdoors. At Clark Landscape, Inc, we will help you with your patio ideas and walkway plans. We have several years of experience in installing these structures and have always delivered high quality.
We have worked on several projects in Bloomington, Martinsville, Mooresville, Bedford, Greenwood, and Plainfield. Our clients have been uniformly satisfied with our efforts.
Add Charming Walkways to Your Home
Your landscape has several installations. For example, it might have a lawn, garden, pool, a patio, or even an outdoor kitchen. So, how would you navigate between all of these places? You need paver walkways for that. They're not just functional, but also add an element of design to your landscape if you plan them correctly. These walkways are very useful and usually define the structure of your backyard. Here's a list of common materials used in walkways:

Concrete Pavers –

Concrete pavers are popular because of their versatility. They're available in a variety of colors and shapes. They can imitate the look of brick or stone, or be vividly colored. They're also easy to maintain.



Interlocking Pavers –

These are made from concrete as well. However, they're more convenient and affordable because they can be laid on a dry bed easily. They fit in with each other like jigsaw puzzle pieces and stay in place.



Brick –

There's something very charming and appealing about brick. This material is also very easy to maintain and looks great on a variety of properties. Brick is also very resilient.



Natural Stone Pavers – Stone is luxurious, expensive, and stunning. There are a wide variety of natural stones that are commonly used for paving walkways and patios and that includes flagstone, bluestone, travertine, slate and marble; to name a few. These stone create a timeless, elegant 'old world' feel to any property.

Host Dinner Parties on Your Patio
Patios are some of the most common types of landscape installation. They give you room to just sit back and relax at the end of the day. You can cozy up with your family or host dinner parties for your friends and relations on your patio. Our experts will help you choose the right patio design that would make the investment worthwhile.
The normal pavers are used to build a patio. You can choose between materials like interlocking pavers, concrete pavers, brick, stone, flagstone, stamped concrete, etc.
If you have any questions regarding our walkways and patios or the other services we provide, don't hesitate to contact us at Clark Landscape, Inc. All you need to do is give us a call at 812 824 8578. We will help you in any way we can.
We Provide Services to the Following Cities and Towns in IN:
Bloomington, IN
Kirksville, IN
Handy, IN
Harrodsburg, IN
Kirby, IN
Hendricksville, IN
Bedford, IN
Martinsville, IN
Unionville, IN