Water Features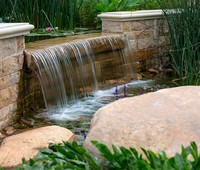 Current day property owners are very keen on creating outdoor spaces that complement the look of their home. In this endeavour, they hire the services of landscape designers and get their yards and gardens designed and installed in a unique and interesting manner. We at Clark Landscape Inc are one of the most sought-after companies in this space and have handled a large number of projects for customers across Bloomington, Columbus, Franklin, Greencastle, Seymour, and Beech Grove.
Designing landscapes is about installing various elements and features in the right combination in order that they create a seamless whole and add to the curb appeal and value of your home. In addition to hardscaping and softscaping, we add various features including fireplaces, outdoor kitchens, patios etc. The other popular elements many customers ask for are water features.
Fountains and More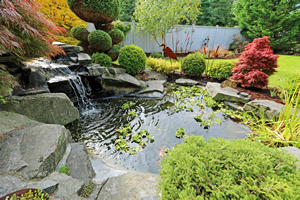 We have installed a significant number of waterfalls, ponds, streams and fountains on properties across Bloomington, Martinsville, Mooresville, Bedford, Greenwood, and Plainfield. These features add to the beauty and ambience of the property and lend a very "alive" feel to it. There is something distinctly refreshing about having a water brook gurgling merrily along your garden space or a waterfall splashing down roughly-cut granite rocks.
We know what it takes to create stunning Koi Ponds and other water elements in various themes. These will be based on the overall theme of your landscaping and we ensure the rock waterfall installation complements the look of your home as well.
Types of Water Features
We work very closely with you to understand what your specific requirement is. Once we know what your ideas are, we work on those ideas, keep your budget in view and then provide solutions that are completely in line with those specifications. Take a look at the different water features we can provide:
Waterfall- This is a very popular feature and we can design these in a very distinctive manner. Some of our customers also choose to get pondless waterfalls- these don't have a pond for water collection at the base. Instead, the water just permeates through cracks in the base and gets circulated in the waterfall. These pondless waterfalls are ideal for homes with kids and pets. Ponds- Koi ponds as well as ones only with aquatic plants are becoming increasingly popular. Many people like the natural and very oriental ambiance that the Koi fish create in a pond designed on the same theme Fountains- These are a great addition to any landscape. They become a focal point and an entire garden can be designed around a classic waterfall. In fact, if you have the space, you can choose to add more than one to the landscaping.
Apart from this, you can choose to get streams or bubbling boulders installed. The latter are an excellent option for tight spaces. We customize water features as per the available space, your preferences and waterfall installation cost. If you have any questions regarding our water feature installation services or the other services we provide, don't hesitate to contact us at Clark Landscape, Inc. All you need to do is give us a call at 812 824 8578.
We Provide Services to the Following Cities and Towns in IN:
Bloomington, IN
Kirksville, IN
Handy, IN
Harrodsburg, IN
Kirby, IN
Hendricksville, IN
Bedford, IN
Martinsville, IN
Unionville, IN