Outdoor Kitchens and Fireplaces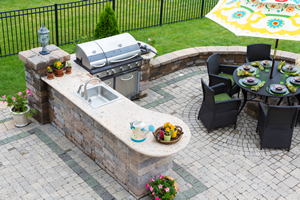 An increasing number of people are using their outdoor spaces more productively. Some installations are predicable like swimming pools and patios. Others are rather interesting, like outdoor kitchens and fireplaces. At Clark Landscape, Inc, we believe that these installations are a little more adventurous and add a lot of fun to your life. They are a considerable investment as well, so you need to find the right contractor for building an outdoor kitchen.
Over the years, we have built several outdoor kitchens in Bloomington, Martinsville, Mooresville, Bedford, Greenwood, and Plainfield. Most of our clients have had a blast with the results of our efforts. Both outdoor kitchens and fireplaces are great for social people who love to throw parties.
Build Great Outdoor Kitchens
There are many people who hesitate to build a kitchen outdoors. They think that they won't get much use out of it. Most of our clients are surprised by how often the kitchen is utilized. Eventually, most people start preferring to cook in their outdoor kitchens. There's just something very entertaining and unique about cooking in these spaces and enjoying the fresh air. Outdoor kitchen plans can fit into any type of budget and requirements. Here's a list of the kind of kitchens you can install.

Single Counter –

This is for people who're on a budget and is the most affordable outdoor kitchen. As the name implies, it consists of just one counter where you can prepare food, cook, and wash.
L-Shaped –

This particular layout is very popular. Not only is it affordable, but it also offers a good amount of useable space. The cooking area and the food preparation area are separate.



U-Shaped –

This layout is for people who have a higher budget and require comfortable amount of space. As the name suggests, there are three counters in the shape of the letter U. It can contain a fully functional kitchen.
Other layouts include the split-level layout and the 3/4th square layout.
Install Excellent Fireplaces
Outdoor fireplaces are a great addition to any backyard. They help keep you warm during chilly evenings and create a great ambiance. If you have them on your patio, you'll be able to spend more time outside and still be comfortable. That means that your dinner parties won't have to move indoors and your guests can have a blast under the open skies.
Fireplaces also add an interesting design element to your backyard. They are usually the centerpiece that instantly catch the eye and attract attention. They add a sense of drama and grandeur, which looks great in any backyard. They don't just look pretty. You can add a stone or pizza oven to your fireplace and get more use out of the installation.
If you have any questions regarding our outdoor kitchens and fireplaces or the other services we provide, don't hesitate to contact us at Clark Landscape, Inc. All you need to do is give us a call at 812 824 8578.
We Provide Services to the Following Cities and Towns in IN:
Bloomington, IN
Kirksville, IN
Handy, IN
Harrodsburg, IN
Kirby, IN
Hendricksville, IN
Bedford, IN
Martinsville, IN
Unionville, IN