Lawn Care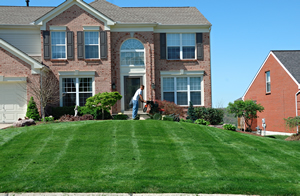 When you have lawn spaces on your property, you want to ensure they are green and healthy at all times. Having a lawn is a lot about how it is maintained right round the year. No matter how good the quality of the grass and no matter how expertly installed it is, if it isn't cared for on a regular basis, its condition will quickly deteriorate and mar the look of the landscaping.
Clark Landscape Inc is one of the most reputed companies in the landscaping field across Bloomington, Columbus, Franklin, Greencastle, Seymour and Beech Grove. In addition to these areas, we have built a very strong customer base in and around Martinsville, Mooresville, Bedford, Greenwood and Plainfield too. We provide excellent turf care solutions to commercial and residential customers and have proven expertise in this space.
When you call us with your lawn maintenance requirement, our experts will come over to your location, survey all the spaces, understand what kind of solutions you need and then provide different options. You can choose from different lawn care plans, based on your specific needs and budget. Once you have approved the quote, we will ensure that the job is handled to your 100% satisfaction.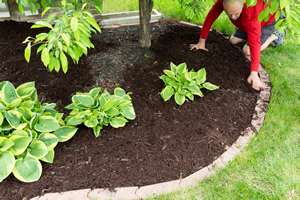 Different Lawn Care Services
No matter what the size of your lawn areas are, we will provide you the best lawn maintenance packages; typically, these include:

Sod replacement Edging on driveway Clearing the grass of all clippings Edging on sidewalks Power Raking Mowing & trimming Over-seeding Crabgrass Control De-Thatching Lawn Fertilization Pre-emergent Weed Control Broadleaf Weed control Mulching Storm cleanup Seasonal cleanup Pest Control Core Aeration

Lawn Care-Custom Solutions
We make use of the latest mowing and grass trimming tools, but we also clip grass manually in the hard-to-reach spots on the lawn. The expert horticulturists on our team know exactly how to treat and maintain different types of grasses and what their soil and fertilization requirements are. This helps keep the grassy areas healthy and fresh-looking right round the year. The best fertilizers, sod, soil and other materials are used and this helps keeps your grass disease-free.
We have monthly, bi-annual or fortnightly packages you can choose from. Once you decide which package best suits your requirements, our lawn experts will come over to your property at pre-decided intervals and ensure that the job is completed in a detailed and methodical way. While we are extremely focused on providing high grade services, we maintain very competitive lawn care pricing.
Lawn Care and Other Services
For any additional information, or an obligation-free quote for lawn care or any other landscape design and install, water feature installation, construction of retaining walls and drainage solutions call Clark Landscape Inc at 812-824-8578. We also provide excellent outdoor kitchen and fireplace, patio and walkways installation services.
Speak with our experts, tell us what your specific requirements are, and we will provide the best, customized solutions. The work will be carried out in a meticulous and efficient manner and completed within the stipulated timeframe.
We Provide Services to the Following Cities and Towns in IN:
Bloomington, IN
Kirksville, IN
Handy, IN
Harrodsburg, IN
Kirby, IN
Hendricksville, IN
Bedford, IN
Martinsville, IN
Unionville, IN