Lawn Maintenance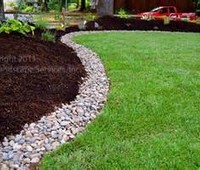 A property with a well-tended lawn is more appealing, safer, and more conducive to outdoor activities. It will also help increase the market value of the property, encourage family bonding, and portray a good image for you or your company. But the usual problem of most property owners is on how to achieve lush and healthy lawn without causing turf damage or spending too much on labor and maintenance supplies. If you're one of them, your best option is to just hire professionals to do the different lawn maintenance tasks. You can tap the services of Clark Landscaping to get outstanding results.
Our company has decades of experience in this field and we can guarantee the excellent execution of each task that our clients may require. Our team is composed of properly trained crews with extensive knowledge of lawn care and maintenance procedures. This is one of the reasons why most residential and commercial property owners in Bloomington, Kirksville, Harrodsburg, Handy, Kirby, Hendricksville, Bedford, Bloomfield, Freedom, and Cincinnati, IN choose our services. If you haven't tried our lawn maintenance service, please call us today at (812) 824-8578.
Lawn Care Maintenance
Another important factor to consider when hiring a contractor is its ability to perform various maintenance tasks. It is better to hire one that offers comprehensive lawn care maintenance package. This will ensure that your lawn gets its needed care and the tasks are performed efficiently. The lawn maintenance package should include any of the following:
Mowing and edging
Trimming and pruning
Mulching
Core aeration and dethatching
Fertilizing
Weed and pest control
Sodding or seeding
Seasonal cleanups
Commercial Lawn Maintenance
Commercial lawn maintenance must be handled by expert people to achieve positive results. It is a more difficult job compared with residential lawn maintenance. If you are a commercial property owner, make sure that your service provider has the experience and resources. These qualities will ensure that the job will be completed efficiently and within schedule.
Tending commercial lawns would also require the use of modern and heavy-duty lawn tools and equipment. For example, riding mowers is the usual option of contractors when working on a large expanse of lawn. Vacuums and baggers are also important tools that are commonly used for commercial lawn maintenance. You should ask for this type of equipment when hiring a service provider in your area.
Lawn Maintenance Tips
Maintaining lawns is not an easy task since it requires proper training and a higher level of competency to complete the task accurately and efficiently. But DIY homeowners like you can still work on your lawn by equipping yourself with the right knowledge and tools. Here are some of our lawn maintenance tips that you can follow:
Mowing must be performed at regular intervals, preferably twice per month.
Never cut more than 1/3 of the leaf when mowing your turf.
Fertilizer should be applied when the grass starts to turn green in spring.
Use edging tools when working on curbing, flower beds, and other hardscape features.
Ensure that your sprinkler system is functioning properly to avoid overwatering.
Test your lawn's soil pH before applying fertilizers.
Make sure that your lawn gets professional care by hiring a licensed and established lawn maintenance company. Call Clark Landscaping today and we'll provide you topnotch service at a cost that won't put a dent in your pockets. With us, you are guaranteed of a clean, healthy, and beautiful lawn.
MORE ARTICLES
We Provide Services to the Following Cities and Towns in IN:
Bloomington, IN
Kirksville, IN
Handy, IN
Harrodsburg, IN
Kirby, IN
Hendricksville, IN
Bedford, IN
Martinsville, IN
Unionville, IN