Pavers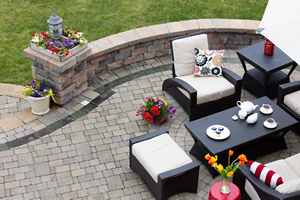 A property with beautiful and healthy plantings is a sure head-turner. You can even make the outdoor area more appealing and more functional by adding hardscape features made from premium-quality pavers. The clever use of softscape and hardscape elements will not only improve balance and harmony in your landscape but also make your property standout in terms of aesthetics, functionality, and safety.
Meanwhile, the paver features around your property can last for decades if they were designed and built by expert contractors like us at Clark Landscaping. Pavers can become safety hazards and make the area unsightly if installed poorly. This may also result in costly maintenance and early replacement. But why worry about these problems if there are reliable and certified paver installers that you can hire. Call Clark Landscaping at (812) 824-8578 and let us help you with your landscaping and paving projects. We serve several areas in Indiana, particularly Bloomington, Kirksville, Harrodsburg, Handy, Kirby, Hendricksville, Bedford, Bloomfield, Freedom, and Cincinnati.
Paver Patio
One of the great home improvement options is building a patio in your outdoors. A patio provides additional living space that can be used for rest and relaxation, quality bonding moments with your loved ones, and even entertaining friends or guests. Since it is considered as an extension of your indoor living, a patio is usually designed with complete features and amenities. Most designs include enclosure, roofing, and outdoor furniture. But one of the most important considerations when installing a patio is the proper choice of flooring materials. You must always go for cost-effective but elegant materials such as patio pavers. These types of paving materials will make your new outdoor living space more functional and long-lasting. A paver patio will also make your home or outdoor area more appealing. 
Stone Pavers
Stone pavers are expensive construction materials, but the aesthetic benefits that they can provide are priceless. That's why they are still the top option of property owners who are after durable and stunningly beautiful paver features and amenities in their properties. The wide range of available designs and stone types is another factor why they are preferred by many clients. The natural stones that are commonly used for paving projects include granite, marble, slate, bluestone, quartzite, and cobblestones. These pavers can easily transform patios, decks, outdoor kitchens, and walkways into elegant and functional spots.
Concrete Pavers
The most popular paving materials today are concrete pavers. In fact, we highly recommend these paving materials because of their design versatility, durability, and long-lasting qualities. They are also cheaper to install as compared with stones and other paving materials.
The interlocking feature of concrete pavers is also one of the reasons why they can last for decades without needing major repair or replacement. If repair is needed, only the damaged or broken unit is replaced. The cost of maintenance is also lower when you use concrete paving since cleaning is only performed occasionally. When properly sealed, you can even forego your regular maintenance schedule. 
At Clark Landscaping, we've been helping clients achieve their dream outdoors with our paver installation services. We can handle any kind of paving project, whether it is for a residential property or commercial area. Our clients are also assured of the quality of our pavers since they are sourced from leading suppliers and manufacturers. Call us now for more details.
MORE ARTICLES
We Provide Services to the Following Cities and Towns in IN:
Bloomington, IN
Kirksville, IN
Handy, IN
Harrodsburg, IN
Kirby, IN
Hendricksville, IN
Bedford, IN
Martinsville, IN
Unionville, IN