Outdoor Living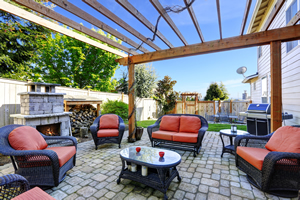 An easy way to make any property doubly functional, attractive, and inviting is to add outdoor living amenities. For one thing, the landscape will become more inviting since occupants have a place to lie down or sit back. With the right materials, the aesthetics of the property is also improved dramatically. Meanwhile, having a well-appointed outdoors can make the area more functional with the different activities that can be done, such as family activities held in patios, pool decks, and outdoor kitchens.
But, to enjoy all these great benefits, you must first hire a competent company with experienced and expert people. At Clark Landscaping, we specialize in designing and installing various outdoor living amenities for clients in Bloomington, Kirksville, Harrodsburg, Handy, Kirby, Hendricksville, Bedford, Bloomfield, Freedom, and Cincinnati, IN. We are a family-owned, licensed, and insured company serving residential and commercial clients in the state. Whether it involves building a custom residential outdoor kitchen or constructing a large commercial pool deck, our crews are the best people you can possibly hire.
Outdoor Kitchens
One of the most common additions to homes in Indiana is an outdoor kitchen. With outdoor kitchens, you can have a better outdoor living experience. It's like extending your indoors to your landscape so you can enjoy good food alfresco style.
There are different outdoor kitchen designs, such as L-shape, Island, Oasis, U-shape, and semi-circle. The design primarily relies on the available spaces and budget of the owner: a typical kitchen island is fit for small spaces while a fully furnished kitchen is great for those who would like to have the same amenities with their indoor kitchens. Meanwhile, if the owner can't decide which type to add, our people here at Clark Landscaping can offer great advice. We have helped countless property owners get their dream outdoor kitchens, and we can do the same for you.
Outdoor Fireplaces
There are a lot of pre-built outdoor fireplaces that you can just buy, but we suggest a custom-built one. While pre-fabricated units can be used outright, the downside is that you don't have much choice in terms of the designs available and the kind of materials and accessories included. With a customized outdoor fireplace, you have a say on everything: materials, design, construction, and accessories. From hotdog grills and fire screens to log racks and fireplace tools, we have premium accessories to complete your outdoor fire features. You can also choose whether the fireplace will use charcoal, natural gas, propane, wood, or ethanol gel fuel. Our skilled crews will build your desired outdoor fireplace at the right spot in your outdoors.
Outdoor Fire Pit
An outdoor fire pit is the perfect outdoor living addition in your landscape if you want an area that is perfect for quality bonding moments with your family. There are different design options that you may consider, such as semi-circle, round, L-shaped, square, or triangular. It's also possible to create fire pits based on your preferred shape for a personalized look.
Meanwhile, to ensure that your outdoor fire pit will be maximized, we recommend having various accessories, such as screen, grate, toolset, cover, tongs, and many more. We will likewise build the pit, following the design that you want, be it with a modern twist or antique appeal.
Please call us now at (812) 824-8578, and let us create the perfect outdoor living amenities for your property.
MORE ARTICLES
We Provide Services to the Following Cities and Towns in IN:
Bloomington, IN
Kirksville, IN
Handy, IN
Harrodsburg, IN
Kirby, IN
Hendricksville, IN
Bedford, IN
Martinsville, IN
Unionville, IN