Retaining Walls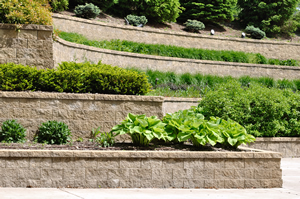 The hardscape features that are commonly installed on residential and commercial landscapes include walkways, garden paths, sitting areas, and retaining walls. The latter plays a very important role in the landscape since it prevents soil erosion. A retaining wall is needed if the property has slopes that can pose safety risks to people and cause possible damage to other landscape features. It is also recommended for small areas since it can be used to create new outdoor living space. The landscape's overall appeal is also enhanced by installing an exquisitely designed retaining wall.
If you want to get all these benefits, make sure that you hire a competent hardscape contractor who specializes in retaining wall construction. At Clark Landscaping, we have the experience and expertise in designing and installing various types of retaining walls. Our portfolio includes some of the best designed walls in residential and commercial properties in the state. Most of these walls were built for clients in Bloomington, Kirby, Kirksville, Harrodsburg, Handy, Hendricksville, Bedford, Bloomfield, Freedom, and Cincinnati, IN. Dial (812) 824-8578 so we can talk about the details of your retaining wall project.
Retaining Wall Blocks
The retaining walls' structural integrity largely depends on the quality of the materials and the construction methods used. When subpar retaining wall blocks are used or inexperienced builders handle their installation, there is a possibility that the walls will sag or collapse. This scenario will not only cause damage to other landscape features but may also hurt and injure people.
At Clark Landscaping, we make sure that our people use only top-quality retaining wall blocks. We source our products from leading suppliers and manufacturers in the country, so our clients are assured of durable and long-lasting retaining walls. We also employ certified masons and builders with extensive experience in hardscape design and installation. Whether you need walls to prevent erosion or create mini gardens around your landscape, we use only proven methods to make them sturdy and appealing.
Retaining Wall Design
Achieving a standout landscape is always possible if the design is done by professionals and the features are installed in the right spots. The retaining wall design, for example, must be carefully planned to ensure that it serves its intended purpose or function. The design should also complement with the home's architecture and theme of the landscape. The color and pattern of the wall blocks can also affect the overall look of your outdoor space, so the selection must be done by professionals like us at Clark Landscaping.
Retaining Wall Cost
The cost of a retaining wall project depends on a lot of factors. You have to consider the amount of soil to be retained, the length and height of the walls to be built, the kinds of materials to be used, and the rate of your installers. The cost may also increase or decrease, depending on the service package offered by your contractor. For example, the retaining wall cost will be lower if the installation is part of a landscaping contract. You will also get a favorable costing if the contractor has direct access to wall block manufacturers. Meanwhile, the average cost of retaining wall installation is around $15-$30 per sq. ft. for interlocking concrete blocks.
Let us handle your retaining wall installation project by calling our hotline today. We guarantee excellent designs and outstanding installation of retaining walls at a client-friendly cost.
MORE ARTICLES
We Provide Services to the Following Cities and Towns in IN:
Bloomington, IN
Kirksville, IN
Handy, IN
Harrodsburg, IN
Kirby, IN
Hendricksville, IN
Bedford, IN
Martinsville, IN
Unionville, IN