Lawn Care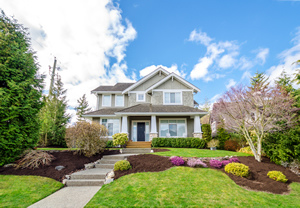 Whether you own a residential or commercial property, it's important to keep the lawn neat and attractive. A well-maintained lawn has other great benefits that property owners like you will surely enjoy. It will help increase the value of your property, improve the aesthetic appeal of your outdoor area, create a relaxing space, absorb rainfall more effectively, and make your surroundings cool. However, maintaining the beauty of your lawn is not an easy task that can be delegated to a newbie. There are a lot of things that must be performed systematically and scientifically. Failure to do these tasks correctly can cause irreparable lawn damage. That's why it is best to leave lawn care in the able hands of professionals.
Clark Landscaping boasts of years of experience in the landscaping industry, and we have a roster of trained and skilled personnel who can work their magic to keep your lawns green and lush. We are preferred by most property owners in Bloomington, Kirksville, Harrodsburg, Handy, Kirby, Hendricksville, Bedford, Bloomfield, Freedom, Cincinnati, and other areas in Indiana. Please call us now at (812) 824-8578 to get our professional lawn care services.
Lawn Service
Lawn care is not limited to watering, trimming, and cleaning up leaves on your lawn. There are other important tasks that must be performed to maintain the beauty and functionality of your lawn area. The best thing that you must do is to hire an experienced lawn service provider who can work on all aspects of lawn maintenance. This way, you don't have to hire another contractor to take good care of the other elements in your lawn or landscape.
Lawn Mowing
Every turf variety has distinct needs that must be addressed at the right time and interval. Since you just can't cut grass whenever you feel like it, adequate knowledge of its needs and characteristics is a must for property owners. Each type of grass has a different growth habit, leaf texture and leaf width. When grass is cut too low, food-producing area is removed and the grass starves. On the other hand, mowing too high will make the turf look unkempt and unattractive. To avoid damaging your turf, it is better to hire professionals to do the lawn mowing job.
Lawn Maintenance
Lawn maintenance should be a continuous endeavor to ensure the health of the lawn and maintain the aesthetic appeal of your property. This takes time and commitment, so make sure that the people you hire are experts in doing various maintenance tasks. From simple mowing and pruning to more complicated maintenance tasks such as irrigation repair and fertilizer and insecticide application, Clark Landscaping has expert people to do these lawn care jobs.
Lawn Fertilizer
When it comes to fertilizing your lawn, it is important to use the right type and amount of fertilizer. The grass needs the right kinds of nutrients, such as nitrogen, phosphorus, and potassium. For properties that use a sprinkler system, fertilizing every six weeks is recommended. Lawn fertilizer can be applied by spreading or spraying, depending on the type of fertilizer used. If you want to be sure about the type and frequency of fertilizer application, please call us. We have knowledgeable and trained personnel for this particular lawn care task.
MORE ARTICLES
We Provide Services to the Following Cities and Towns in IN:
Bloomington, IN
Kirksville, IN
Handy, IN
Harrodsburg, IN
Kirby, IN
Hendricksville, IN
Bedford, IN
Martinsville, IN
Unionville, IN